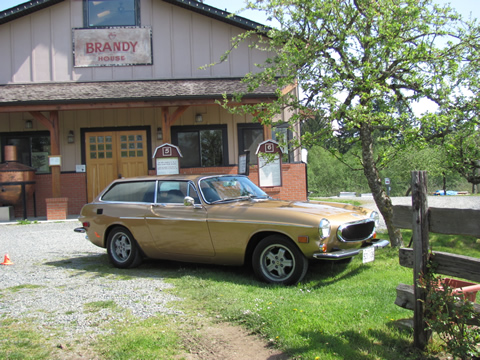 Fun in the Sun on the Big Island
by Bob Cuthill
Vancouver Island Director
May 6, 2012
I actually had given some thought to not writing this article. I almost felt guilty at having so much fun driving my 50 year old P1800 along the picturesque secondary roads of southern Vancouver Island. Almost being the operative word. Sitting here in my room at the NORAD radar site in Cambridge Bay I realized that while we almost had too much fun, I really should put pen to paper (figuratively of course) and record a few words about our Island Mystery Tour of 6 May 2012.
This year was considerably different from previous events of a similar name. While I was away and working in the arctic, Chris and Marja Blasé of Shawnigan Lake had volunteered to put together a Mystery Tour route and select a dining destination. We corresponded by email, swapped ideas and polished the draft route to final copy.
The start point was kept to a familiar location, namely the Tim Horton's on Millstream Ave just north of the Trans Canada Highway in Langford. But from there on it was very different. As cars gathered in the parking lot we noticed one of Canada's finest national constabulary (aka RCMP) had parked adjacent to us. Not to worry, we had all been good boys and girls. When he returned to his car with coffee and some nourishing supplies I was taking a picture of our group (including his white non-Volvo with large blue POLICE on the side). Being the typical friendly Volvo driver, I extended an invitation to join us on the drive, but he politely declined, citing more pressing business elsewhere. Oh well, his loss. We were a slightly smaller group this year, six cars and ten people. The locals included Lorne Knutson and daughter/navigator Anna in the 73 ES; Bob Rowlands sans a navigator in a 740 GLE and of course your author. From way up island in Nanaimo Jan and Rosina Nilsson had driven down in their 02 V70 and Henning and Monica Kristensen came from Duncan/Maple Bay in a 740T (not the Smart car Volvo wannabe of last year). And last, but certainly not least, our route organizers, Chris and Marja Blasé from Shawnigan Lake in their 84 760.
Once we were all suitably refreshed and introductions made all around it came time for the driver's meeting. The six page handout of route instructions took a little explaining. Chris and Marja had done a lot of work not only finding a lot of roads we had not seen before, but in being very creative with the instructions for said route. Instead of making it easy, most of the turning points were described by colour pictures which described the turning point in a somewhat cryptic fashion. Participants were advised that as they neared a given mileage they should approach cautiously and slow down or even pull over and stop to give themselves time to think about how to interpret the pictures. For example – a picture of a windmill with a field of tulips in the foreground meant to proceed next on "Holland" avenue. A few extra minutes were allowed for reading and digesting the verbal and written instructions then we were on our way.
Typical of southern Vancouver Island, it was a lovely sunny day with the tall trees along the route providing just enough shade. I had pre-driven the route, as must be done once the final instructions are printed, just to verify all was in order and that there were no significant variations in mileages between the course car and mine. This also gave me time to observe the other cars at various locations along, and sometimes off the planned route. If I observed another participant ahead of me misinterpret a route instruction, I tried to let them get out of sight before I made the correct turn. But I also waited out of sight after the turn just to make sure they were able to get back on track. As a last resort, my cell phone number was printed at the bottom of the last page (but miraculously, I didnít get one call that day!).
Having organized a number of these events before, I sometimes wondered if I was going to run out of roads and new ideas. I must admit, I saw a lot of new and interesting territory on this drive. Our mid point stop at the Merridale Estate Cidery, a beautiful pastoral location, was most welcome, particularly after the large coffee consumed at the start point. It served as a good chance to get out and stretch, chat with fellow participants and note the location for a return visit. We were soon on the road again, having almost too much fun and off to our lunch stop, the Rock Cod Café in the charming waterfront village of Cowichan Bay. Needless to say, Chris and Marja had found a restaurant as interesting as the route they had devised. The food was great and the conversation and individual stories from the route very entertaining. We certainly must do this again some time.
All too soon we were wending our individual ways home. At this point a big heartfelt thank you and round of applause to Chris and Marja, not only for helping organize this year's event, but for their innovative and entertaining instructions format.
---
Photos