2013 Second annual Courtenay Cruise
by Bob Cuthill
Vancouver Island Director
July 14, 2013
It looks like the VCBC Courtenay Car Cruise is going to be a regular event. Lucy and I got off to a good start for the drive north from Victoria and we had a successful drive ending at Chad's in Courtenay. But 20 minutes south of Courtenay there was some doubt my 61 P1800 was going to be part of the fun.
The generator light came on. How dare it! I mean, it was only the original generator but with two year old new brushes. Anyway, with all electrical services off we made it comfortably to Robert Kirk's Courtenay Car Centre and Volvo Emporium at 3 pm. By 4 the mechanic and Robert had run the appropriate tests, removed and disassemble the generator and determined there was a fault of some kind in the armature. Much to Robert's surprise I said I had a spare (in Victoria of course). A quick call to son Sean located the spare in my workshop and by 6:30 we had it in hand in Courtenay. After supper Robert met me back at the shop at 7:30 and by 8:00 I was out the door without that little red light on. Talk about dedication to the Volvo motto "I ROLL" – Robert Kirk is certainly a shining example.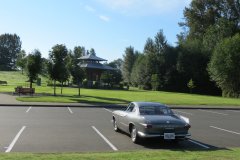 Sunday morning dawned with blue skies and sunshine. We arrived at the starting point at Simms Millennium Park at the appointed time and we didn't have to wait long for some more Volvos. First on deck were Eric and Bronwyne Young in a 65 P1800 followed closely by Phil Mansfield and his young son navigator in the grey 122. Bill Paitson and Gerilyn brought the shiny blue S90 up from Nanaimo and Bob and Edna Pellow a 240 down from Quadra Island. A third P1800 (1968) driven by Jordan Roche rounded out the group. Unfortunately, our primary local contact, Robert Kirk was not able to join us. It seems summer business at the Courtenay Car Center was turning out to be a seven day a week job. Maybe next year Robert.
After a few introductions and visits to cars we had a short drivers meeting to go over the instructions for the route. Although it was mentioned not to necessarily follow anyone else from the group as they may be more lost than you, about halfway through the course we had five of the six cars travelling in a loose packet. There was a wide variety of roads with speed limits varying from 30 KPH to 110 KPH and road types all the way from four lane divided freeway to one and a half lane with no centre marking and at one point a one lane bridge. But it was all fun and we all arrived safely at Chads West Coast Bar and Grill on the other side of Courtenay from where we started. A delicious lunch was soon on the table and everyone commented on the fun of the drive. A member from the local area stated that while he had done a lot of riding and driving in the area, we covered some new ground he had never seen before. So even with good map pre-planning and a Google Earth review, it seems the organizers getting lost on the first drive while setting up the route actually had some benefits. I'm going to have to remember that when setting up for next year.