2013 Island Show and Shine
by Bob Cuthill
Vancouver Island Director
July 14, 2013
Just back from a 4000 km trip to the prairies (the 94 850 performed flawlessly and got great mileage) and reflecting back on our eleventh Show-N-Shine. Each year I think "It can't get any better than this" and along comes an even better one. Our hosts, Bjorn and Kjellaug had just returned from their European vacation the week before and the "Olsson Estate" as I call it, was ship shape and ready.
Our friendly neighbourhood weather man also co-operated and we had crystal blue skies, light winds and very comfortable temperatures. By 10 am the traditional blue on yellow Volvo signs had been put up on some local telephone poles to help the newcomers find us and the coffee pot was on while we waited for the first arrivals. And it wasn't long. Granted my 1800 with the magnetic club banner on the side was the first on the grass but that was more to catch the eye of those looking for the right spot. All tolled at the end of the day we had 21 cars and two bicycles attend.
Mind you, a few members couldn't bring their Swedish iron so subtracting the one Porsche 944 and the two VW buses, we managed to put 18 Volvos on display. I think this year we had a very broad selection with only a couple of cases of almost duplication. In the 140 series – Michael and Brenda Kelly brought their 70 144 in original yellow paint while Joel Friesen brought a 72 142E in very shiny green. Sam and Micelle Wilson and Nigel and Amy Coulter were both driving V70s. Al Larmon was actually first on deck with his beautifully restored 69 164. He was followed very closely by wife Audrey in their 83 245.
Another husband and wife team was Mark and Rebecca Pacey. Mark brought his much modified S70 while Rebecca brought the wagon. But not just any wagon – it was a 2000 V70R in which Mark had converted to a manual transmission after replacing the broken original engine, transmission and rad. Gary Barstow, our part time Victoria resident brought his 65 122 with plates from his alternate home in Washington state. Other participants were Bob Rowland in a 740, Bill Paitson down from Nanaimo in his S90, Lucy Cuthill in a cherry red 94 850, Peter and Pavla Landsman in the yellow 1800ES, Don MacVicar in a pearlescent 544, Ben Cikos in an S60 and Lars and Jennifer Junker in a 123GT.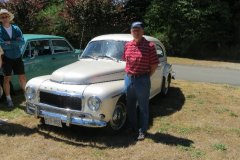 There certainly was a lot to choose from and there was a constant stream of people visiting from car to car either to talk about the car or scope it out for balloting for the People's Choice award. It was soon time to gather the crowd for some door prize draws and for Bjorn to start the BBQ. After lunch it was time to count the ballots for the People's Choice. It was a close race with only one vote each separating the top three. Third was Landsman's bright yellow 1800ES, second was Joel Friesen's 142 and first was Al Larmon's shiny grey 164.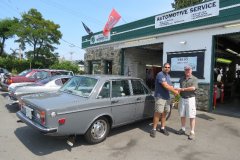 A big thank you to Greenway Automotive, our newest aftermarket Volvo shop just down the street in Saanichton, who sponsored this year's award. And a special thanks to all our supporters throughout the year, Landsman Motors, Chapman Motors (three locations), Dancia Motors and the Courtenay Car Centre.